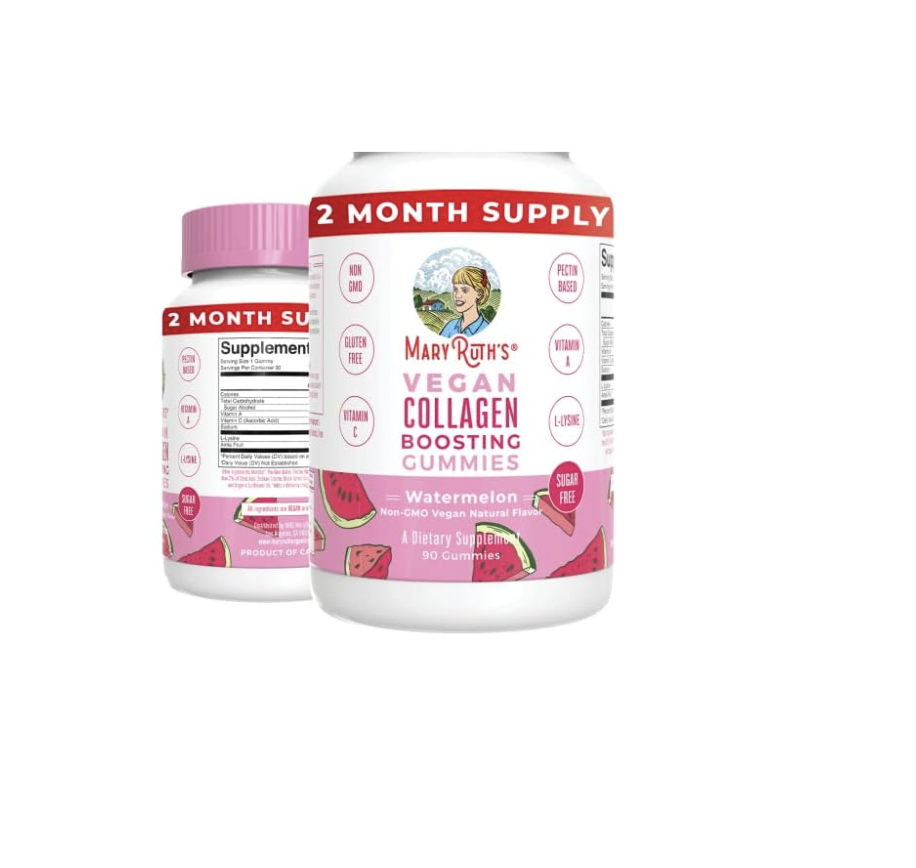 MaryRuth's Collagen Boosting Gummies offer a delectable solution for promoting collagen production. Packed with L-lysine, Amla fruit, Vitamin A, and Vitamin C, these vegan gummies support your body in generating its own collagen. Unlike traditional animal-sourced supplements, ours focus on providing essential nutrients for natural collagen synthesis.

Benefits abound: collagen enhances bone structure and skin integrity, while Vitamin A and C boost collagen synthesis and nurture skin health. The amino acid Lysine collaborates with Vitamins A and C in vital collagen production, and Amla fruit contributes to improved skin elasticity, thickness, and hair growth.

Say goodbye to challenging pills! Our easy-to-chew gummies offer a convenient daily regimen—adults can take one gummy up to three times a day with food. Each bottle yields 30-90 servings and should be stored in a cool, dry place.

Our vegan formula per serving includes 300 mcg of Vitamin A, 30 mg of Vitamin C, 50 mg of L-Lysine, and 3.3 mg of Amla Fruit Powder. With organic, plant-based ingredients like Isomalto-oligosaccharides, Erythritol, Xylitol, and more, these gummies are a tasty and health-conscious choice.

Suitable for various lifestyles, MaryRuth's Collagen Gummies are Non-GMO, Vegan, Pectin-Based, Gelatin-Free, Dairy-Free, Nut-Free, Gluten-Free, Wheat-Free, Soy-Free, Corn-Free, Nightshade-Free, Sugar-Free, and free of artificial colors. Crafted in a GMP Facility, they cater to your well-being with quality ingredients and a delicious watermelon flavor.
check out the website